Something special is in the works at Tempe Town Lake
Introducing the proposed Arizona Boathouse & Welcome Center at Tempe Town Lake. The Boathouse is designed to be a gathering place for the community and those seeking to enjoy the attributes of water activities at Tempe Town Lake. The Boathouse will be located on Tempe Town Lake's north short, next to the SRP Marina. The building is designed to host a number of groups and activities, as well as offer boat and equipment storage, and a welcome center for information on programs offered at the lake.
The Arizona Boathouse & Welcome Center will benefit
Clubs and Associations
A variety of boating clubs, including adult rowing clubs, high school rowing and crew programs, Outrigger Canoe Clubs, Arizona Dragon Boat Club, Arizona Sailing Foundation and Arizona Yacht Club use the lake.
Collegiate Rowing: Arizona State University
has an intercollegiate crew program for men and women, and support the current rowing programs organized through the ASU Student Recreation Center.
High School Rowing
Local high schools throughout the region are offering junior rowing clubs and competitive crew programs to their students.
Youth Rowing, Paddling and Fishing
Underprivileged and at-risk students from community organizations and valley youth centers will gain greater opportunities to experience a variety of water-based recreation activities.
Water Recreation Day Camp
Youth summer camp programs teach campers how to row, kayak, and paddle a dragon boat and an outrigger.
Sailing for Students and Students with Disabilities
ASU's Student Recreation Center offers sailing programs for students and students with disabilities, delivering both classroom instruction and on-the- water experience.
Adaptive Rowing
In competitive rowing, there are lightweight divisions and masters events, and now there is also an adaptive category for rowers with physical disabilities. Adaptive rowing refers to both the equipment adaptations for rowers with disabilities and the sport as a whole. The sport gained momentum in 2005, when the International Paralympic Committee (IPC) voted to include adaptive rowing in the 2008 Beijing Paralympic Games. This growing program offers rowing to visually impaired individuals, the disabled as well as veterans.
We need your support!
Since opening to the public, Tempe Town Lake has become one of Arizona's most popular attractions, now drawing more than 2.8 million visitors each year for boating, fishing, jogging, cycling, and a myriad of national signature events and activities.
In fact, the interest in boating – from rowing sculls to canoeing and sailing – has grown tremendously in recent years. Boating enthusiasts use the SRP Marina at the northeast end of the Lake as the primary launch site for their crafts, but they have never had a permanent indoor facility that coordinates and supports all of the lake's recreational and educational activities…until now
The latest addition to the shores of Tempe Town Lake will be the new Arizona Boathouse & Welcome Center, located next to the SRP Marina on the north shore. The building will include boat and equipment storage and lake access on the lower level. On the main level will be a Welcome Center for information about the Lake and the many programs and activities offered. A multipurpose meeting space that can be divided into 3 areas to create teaching classrooms and special event areas will be available. City of Tempe offices and temporary spaces are available for clubs and teams while using the boathouse.
With these amenities, the community boathouse will host a number of diverse groups and allow for the expansion of programs that serve the valley's families and youth, as well as athletes from across the nation and around the world.
We are continue to raise the needed funds to complete. We invite you to visit the SRP Marina and tour the lake to see firsthand how the Arizona Boathouse & Welcome Center will enhance the Lake experience, not to mention welcome joggers and cyclist as they circle the Lake.
National and Regional Events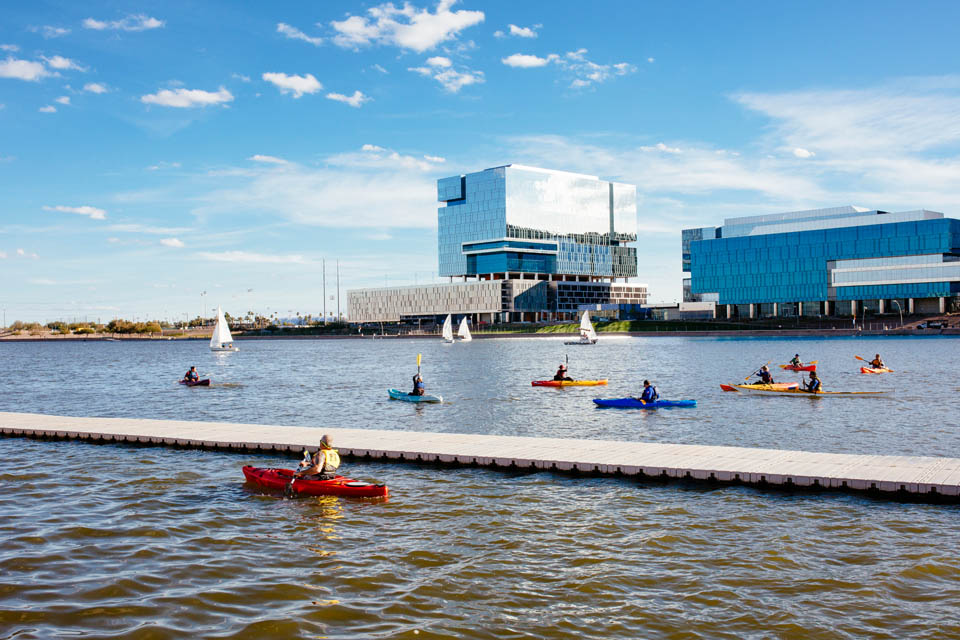 Tempe Town Lake is a host venue for many groups and events such as the U.S. Rowing Association Regattas, visiting college rowing teams, national rowing teams, paddling camps, an Outrigger Canoe Regatta, the Cardboard Boat Regatta and the Arizona Dragon Boat Festival.
As headquarters for the recreational clubs and programs at Tempe Town Lake, residents and visitors can sign up for a class, register for a race, buy boats permits or purchase an event ticket—all under one roof. Offices for the Lake Operations Center, Tempe Boating Programs and Lake Events will be located here.
The facility will be a gathering place or pit stop for runners and walking clubs that circle the lake, and bike clubs that hit the trails of Papago Park.
Ample indoor classrooms will give students the full benefit of the educational opportunities at the lake. Children and adults can attend water safety classes before jumping in a kayak, while crew teams can meet after practice to review their progress and strategize for race
The Welcome Center will offer visitors a glimpse of Town Lake's rich history, art, and culture through visual displays and an information desk.
The great room, with panoramic views of the lake and marina, will be available to rent for conferences and other special events.
The Arizona Boathouse & Welcome Center is a public private project that will come together thanks to generous supporters who recognize the long-term dividends of investing in our Valley's sustainability, and believe in the vision of creating a regional destination that is unmatched in resources. By supporting this project, you will be shaping the future of the Rio Salado and Papago Park region. Please join the Rio Salado Foundation in this vital endeavor.